Here it is: The master index to all of my free Paleo recipes that have appeared on Nom Nom Paleo over the years! (If you stumbled on this page while looking for Paleo diet recipes but don't know what Paleo's all about, read up on it here.)
Want my recipes in a super-powerful, insanely flexible meal planner that'll allow you to choose and filter ingredients and dishes according to your personal preferences? Go check out the Real Plans meal planning tool—it's a life changer!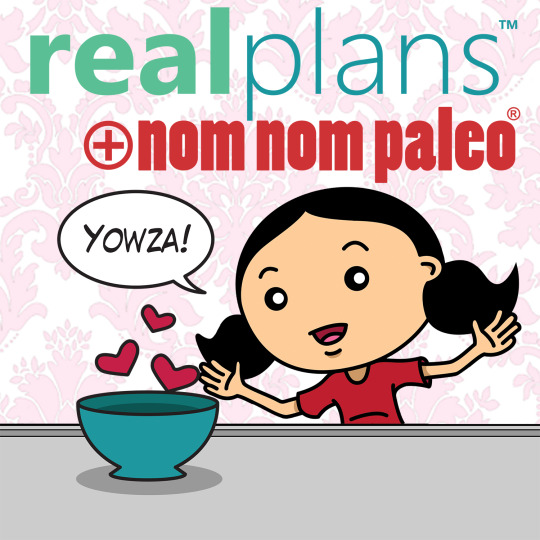 Hungry for more? Check out my Webby Award-winning iPad cookbook app—it's packed with new, exclusive recipes as well as updated versions of some of the classic Nom Nom Paleo dishes found here. (Click here for more information—and a video!—about the app!)
No iPad? No problem! Get my New York Times bestselling cookbook, Nom Nom Paleo: Food for Humans! It's one of my proudest accomplishments, and I know you'll love it!
Now let's get cooking!
---
BUILDING BLOCKS
Instant Pot Hard "Boiled" Eggs
Leon's Caper and Anchovy Miracle Sauce
Mango + Avocado Salsa (with pan-seared salmon)
Mango + Avocado Salsa (with fried green plantains)
Spicy Peach Barbecue Sauce (Peachy Pork-A-Bobs)
Spicy Tomato Basil Sauce (Guest Post from Virginia's for Hunter-Gatherers)
---
PRESSURE COOKER/INSTANT POT
Instant Pot Curried Cream of Broccoli Soup
Instant Pot Hard "Boiled" Eggs
Instant Pot (Pressure Cooker) Chicken and Gravy
Instant Pot (Pressure Cooker) Chicken Pho
Pressure Cooker Bo Kho (Spicy Vietnamese Beef Stew)
Pressure Cooker Braised Kale and Carrots
Pressure Cooker Crispy Potatoes
Pressure Cooker Grass Fed Beef Back Ribs
Pressure Cooker Indian Curry Lamb Spare Ribs
Pressure Cooker Lemongrass + Coconut Chicken
Pressure Cooker Mocha-Rubbed Pot Roast
Pressure Cooker Porcini and Tomato Beef Short Ribs
Pressure Cooker Salsa Chicken Tacos
Pressure Cooker Spaghetti Squash
Pressure Cooker Summer Italian Chicken
Pressure Cooker Thai Beef Curry
Quick Pressure Cooker Bone Broth
---
SLOW COOKER
Slow Cooker Chicken Cacciatore
Slow Cooker Curried Goat Shanks
Slow Cooker Grass Fed Beef Shanks and Cabbage Stew
Slow Cooker Korean Grass Fed Short Ribs
Slow Cooker Lemongrass and Coconut Chicken Drumsticks
Slow Cooker Pork Shoulder Roast
Slow Cooker Roast Chicken and Gravy
Slow Cooker Roast Chicken and Gravy (an even quicker method)
Slow Cooker Thai Yellow Curry with Grass Fed Beef Brisket
---
NIBBLES
Broiled Prosciutto-Wrapped Asparagus Spears
Broiled Zucchini (or Eggplant)
Cheesy 'n Beefy Mini Frittata Muffins
Curry Turkey Bites + Apricot-Ginger Dipping Sauce
Egg Foo Young-ish (Spinach, Egg, Ham & Coconut Pancakes)
Fried Green Plantains (Patacones or Tostones)
Fried Green Plantains + Mango Avocado Salsa
Instant Pot Hard "Boiled" Eggs & Lazy Devils
Juli Bauer's Sticky Sesame Teriyaki Chicken Wings
Lemon-Ginger Meatballs (from The Homegrown Paleo Cookbook)
Paleo Shrimp-Stuffed Mushrooms
Porkitos! (A.K.A. Crispy Prosciutto Chips)
Pressure Cooker Crispy Potatoes
Prosciutto-Wrapped Mini Frittata Muffins
Roasted Bell Peppers with Balsamic Vinegar & Extra Virgin Olive Oil
Toaster Oven-Roasted Chestnuts
Yummy Mummies (a.k.a. Halloweenies)
---
SALADS + SOUPS
Broccoli Slaw Roast Beef Salad
Chilled Cream of Avocado Soup with Dungeness Crab
Cobb Salad with Sous Vide Chicken
Curried Cream of Broccoli Soup
Endive, Radicchio, and Apple Salad with Porkitos and Hazelnuts
Fig & Watermelon Salad with Honey Vanilla Cashews
Instant Pot Curried Cream of Broccoli Soup
Instant Pot (Pressure Cooker) Chicken Pho
Quick Pressure Cooker Bone Broth
Red Cabbage Slaw with Tangy Carrot Ginger Dressing
Sous Vide Chicken Salad with Shaved Zucchini, Carrots & Avocado
Spicy Thai Chicken Zoodle Salad
Sunnyside Salad (Crispy Fried Eggs on Greens)
Thai-Inspired Crispy Duck & Arugula Salad
Warm Brussels Sprouts Slaw with Asian Citrus Dressing
Watercress with Seared Prosciutto + Peaches
Watermelon and Tomato Gazpacho
---
EGGS
5:10 Momofuku Eggs with Bratwurst, Broccoli Florets, Tomato & Avocado
Cantonese Egg Custard with Minced Pork
Chawanmushi (Savory Egg Custard)
Cheesy 'N Beefy Mini Frittata Muffins
Curried Beef, Broccoli Slaw, & Mushroom Frittata Muffins
Curried Ground Pork & Broccoli Slaw Frittata
Egg Foo Young-ish (Spinach, Egg, Ham & Coconut Pancakes)
Frittata With Tabil-Spiced Pork, Spinach &Tomatoes
Instant Pot Hard "Boiled" Eggs & Lazy Devils
Julia Child's Rolled Omelet — Thai Style
Open-Faced Omelet with Avocado & Cherry Tomatoes
Prosciutto-Wrapped Mini Frittata Muffins
Sous Vide Soft-Boiled Eggs (First Attempt)
Spinach Frittata with Guacamole & Salsa
Sunnyside Salad (Crispy Fried Eggs on Greens)
Sweet Potato Hash with Fried Egg
Tabil-Seasoned Pork & Spinach Omelet
---
PLANTS
Asian Cauliflower Fried "Rice"
Atkilt (Paleo By Season's Ethiopian Vegetable Stew)
Braised Green Beans with Tomatoes & Onions
Broiled Prosciutto-Wrapped Asparagus Spears
Broiled Zucchini (or Eggplant)
Cauliflower, Carrot, and Parsnip Puree
Cheesy 'n Beefy Mini Frittata Muffins
Chez Panisse Braised Red Cabbage
Collard Greens That Are Tasty and Pretty
Endive, Radicchio, and Apple Salad with Porkitos and Hazelnuts
Fried Green Plantains (Patacones or Tostones)
Fried Green Plantains + Mango Avocado Salsa
Garlic Cauliflower "Mashed Potatoes"
Grilled Zucchini/Summer Squash
Hawaiian Fire-Spiced Mushrooms
Instant Pot Curried Cream of Broccoli Soup
Microwaved Yams/Sweet Potatoes
Nuke & Bake Roasted Acorn Squash
Pizzeria Delfina's Spicy Cauliflower
Pressure Cooker Braised Kale and Carrots
Pressure Cooker Crispy Potatoes
Pressure Cooker Spaghetti Squash
Red Cabbage Slaw with Tangy Carrot Ginger Dressing
Roasted Bell Peppers with Balsamic Vinegar & Extra Virgin Olive Oil
Roasted Broccoli With Crispy Prosciutto & Balsamic Vinegar
Roasted Brussels Sprouts & Bacon
Roasted Portobello Mushrooms (Easiest Version)
Roasted Portobello Mushroom Packets with Garlic, Shallots & Balsamic Vinegar
Roasted Portobello Mushroom Packets with Lemon and Garlic
Sautéed Cabbage and Onions with Smoked Wild Alaskan King Salmon
Sautéed Red Cabbage with Onions, Garlic & Anchovy
Sautéed Spinach with Bacon, Bacon Grease, Shallots, & Mushrooms
Spicy Sautéed Mushrooms with Anchovy
Spicy Thai Chicken Zoodle Salad
Stir-Fried Napa Cabbage with Mushrooms & Bacon
Stir-Fried Shiitake & Broccoli Slaw
Sunnyside Salad (Crispy Fried Eggs on Greens)
Super-Easy Trader Joe's Southern Greens
Swiss Chard with Raisins, Pine Nuts, and Porkitos
Toaster Oven-Roasted Chestnuts
Warm Brussels Sprouts Slaw with Asian Citrus Dressing
Watercress with Seared Prosciutto + Peaches
Watermelon and Tomato Gazpacho
Zucchini Spaghetti (Zoodles!) & Meatballs
---
SEAFOOD
Chilled Cream of Avocado Soup with Dungeness Crab
Fiona's Phenomenal Fish Packets
Fish en Papillotte with Citrus, Ginger, and Shiitake
Fried Petrale Sole with Roasted Delicata Squash & Stir-Fried Shiitake & Broccoli Slaw
Grilled Calamari & Roasted Peppers
Hardcore Albacore (Broiled Bacon-Wrapped Tuna Medallions)
Mango + Avocado Salsa on Pan-Seared Salmon
Paleo Shrimp-Stuffed Mushrooms
Sautéed Shrimp With Onions and Cherry Tomatoes
Seared Sous Vide Sockeye Salmon
Slim Palate's Pistachio-Crusted Salmon
Softcore Albacore (Tuna Braised In Olive Oil)
The Domestic Man's Caldo de Langostinos (Mexican Squat Lobster Soup)
Tilapia Filet with Aleppo Chile Finishing Salt
---
BIRDS
Braised Chicken Legs with Artichokes & Pearl Onions
Braised Chicken Legs with Artichokes & Pearl Onions, v.2 (new & improved!)
Butterflied Big Bird (Spatchcocked Thanksgiving Turkey)
Cantonese Crispy Chicken Thighs
Cheater Crispy Sous Vide Duck Confit Legs
Chicken with Roasted Tomato Chipotle Salsa, Cherry Tomatoes & Guacamole
Chicken with 40 Cloves of Garlic
Crispy Chicken Thighs, Garlic Cauliflower Mashed "Potatoes" & Sautéed Spinach with Shallots
Curry Turkey Bites + Apricot-Ginger Dipping Sauce
David Lebovitz's Super Easy Roast Chicken with Caramelized Shallots (Whole30 Style)
Dorie Greenspan's "When In Doubt, Chicken-In-The-Pot!"
Doro Wat (Spicy Ethiopian Chicken Stew)
Easiest Roast Chicken Ever (Trader Joe's Style)
Emergency Protein a.k.a. Garbage Stir-Fry
Instant Pot (Pressure Cooker) Chicken and Gravy
Instant Pot (Pressure Cooker) Chicken Pho
Juli Bauer's Sticky Sesame Teriyaki Chicken Wings
Julia Child's Classic Roast Chicken
Lemon Garlic Chicken Parchment Packets
My Sister's Phenomenal Grilled Green Chicken
Pressure Cooker Lemongrass + Coconut Chicken
Pressure Cooker Salsa Chicken Tacos
Pressure Cooker Summer Italian Chicken
Slow Cooker Chicken Cacciatore
Slow Cooker Lemongrass and Coconut Chicken Drumsticks
Slow Cooker Roast Chicken and Gravy
Slow Cooker Roast Chicken and Gravy (even quicker method)
Sous Vide Chicken Breast & Green Beans
Sous Vide Chicken Breast with Roasted Bell Peppers, Sautéed Mushrooms & Broccoli
Sous Vide Crispy Chicken Thighs: Michael Voltaggio-Style
Sous Vide Crispy Chicken Thighs (Again!)
Sous Vide Crispy Chicken Thighs: The Whole30 Version
Sous Vide Tabil-Seasoned Chicken Breasts & Salad
Spatchcocked Chicken with Herb Butter
Spicy Thai Chicken Zoodle Salad
Stupid Easy Paleo's Kickin' BBQ Shredded Chicken
Thai-Inspired Crispy Duck & Arugula Salad
Weeknight Roast Chicken (from Cook's Illustrated)
Zenbelly's Pan-Roasted Chicken with Bacon and Apples
---
BEEF
Asian Ground Beef, Mushroom & Broccoli Slaw Lettuce Cups
Bo Kho (Grass Fed Brisket, Tomato, Star Anise, Lemongrass, and Carrot Stew)
Braised Thai Green Curry with Grass Fed Boneless Short Ribs
Cheesy 'N Beefy Mini Frittata Muffins
Curried Beef, Broccoli Slaw, & Mushroom Frittata Muffins
Dave Wendel's Flank Steak Roulade
Delicata Squash Stuffed with Spiced Grass Fed Ground Beef & Tomatoes
Deconstructed Samosa (Spiced Keema)
Emergency Protein a.k.a. Garbage Stir-Fry
Green Sliders (Spinach, Mushroom, and Beef Mini Burgers)
Grilled Grass Fed Rib Eye Steaks
Oven-Braised Beef Stew with Carrot, Parsnip, and Lancinato Kale
Paleo Comfort Foods' Farmer's Pie
Perfect Steak (from Cook's Illustrated)
Pressure Cooker Grass Fed Beef Back Ribs
Pressure Cooker Mocha-Rubbed Pot Roast
Pressure Cooker Porcini and Tomato Beef Short Ribs
Pressure Cooker Thai Beef Curry
Slow Cooker Experiment: Grass-Fed Beef Shanks & Cabbage Stew
Slow Cooker Korean Grass Fed Short Ribs
Slow Cooker Thai Yellow Curry with Grass Fed Beef Brisket
Slow Roasted Grass Fed Beef Back Ribs
Smashed Steak Skewers with Cherry Barbecue Sauce
Sous Vide Gigantic Grass Fed Cowboy Chops (Bone-in Rib eye)
Sous Vide Grass Fed Beef Burgers
Sous Vide Grass Fed Beef Tongue 'n Cheek
Sous Vide Grass Fed Bottom Round Roast
Sous Vide Grass Fed Flank Steak
Sous Vide Grass Fed Rib Steaks
Sous Vide Grass Fed Shredded Beef Chuck Roast
Sous Vide Grilled Grass Fed T-Bone Steaks
Sous Vide Grass Fed Top Sirloin
Sous Vide Grass Fed Tri-Tip Roast
Sous Vide Grass Fed Tri-Tip Roast & Veggies
Sous Vide Organic Rib Eye Steak, Mash,Green Beans, & Gravy
Sous Vide Turkish Slider Burgers
Sous Vide Umami Slider Burgers
Swiss Paleo's Homemade Italian and Chorizo Sausage
Tabil-Seasoned Mini Beef Patties
---
LAMB + GOAT
Deconstructed Samosa (Spiced Keema)
Dukka-Seasoned Sous Vide Lamb Chops
Emergency Protein a.k.a. Garbage Stir-Fry
Lamb Burgers with Fried Egg, Sautéed Shiitake Mushrooms & Onions
Pressure Cooker Indian Curry Lamb Spare Ribs
Riki's Homestyle Lamb Shawarma
Quick & Simple Roasted Rack of Lamb
Saag Gosht (Lamb with Spinach Sauce)
Slow Cooker Curried Goat Shanks
Sous Vide Mustard & Herb-Seasoned Butterflied Lamb Leg
Sous Vide Rack of Lamb (Take 2)
Sous Vide Trader Joe's Seasoned Frenched Rack of Lamb
Swiss Paleo's Homemade Italian and Chorizo Sausage
---
PORK
Bacon Apple Smothered Pork Chops
Cantonese Egg Custard with Minced Pork
Dan Dan Noodles from Well Fed Weeknights
Egg Foo Young-ish (Spinach, Egg, Ham & Coconut Pancakes)
Emergency Protein a.k.a. Garbage Stir-Fry
Green Pork and Shiitake Sliders
Lemon-Ginger Meatballs (from The Homegrown Paleo Cookbook)
Overnight Oven-Braised Shredded Pork Tacos
Pork & Spinach-Stuffed Kabocha Squash
Porkitos (A.K.A. Crispy Prosciutto Chips)
Sausage and Spinach Stuffed Portobello Mushrooms
Slow Braised Pork Leg with Citrus & Fajita Seasoning
Slow Cooker Pork Shoulder Roast
Slow Roasted Pork Shoulder/Butt
Sous Vide Pork Chops with Veggies
Smoked Pork Chops, Green Beans & Braised Cabbage
Super Porktastic Bacon-Topped Spinach and Mushroom Meatloaf
Swiss Paleo's Homemade Italian and Chorizo Sausage
The Healthy Gluten-Free Life's Dutch Oven Pork Roast
---
"NOODLES" + "RICE"
Asian Cauliflower Fried "Rice"
Asian-Style Kelp Noodles with Ground Beef, Broccoli Slaw & Spinach
Cauliflower "Rice" (The Simple Version)
Dan Dan Noodles from Well Fed Weeknights
Semi-Homemade Paleo Spaghetti and Meatballs
Stir Fried Kelp Noodles Made with The Dregs From My Fridge
Zucchini Spaghetti (Zoodles!) & Meatballs
---
TREATS
Bloody Eyeballs (Blueberry-Stuffed Longans With Berry Sauce)
Chocolate Chip Cookies from The Food Lovers' Primal Palate
Chunky Monkey "Ice Cream" Bon Bons
Civilized Caveman's Apple Cinnamon Cookies
Frozen Coconut Milk (Not a recipe, but still great!)
Grain-Free Dark Chocolate Cherry Scones
Kelly Brozyna's Chocolate Pie + Raw Graham Cracker Crust
Kelly Brozyna's Dairy-Free Vanilla Ice Cream + Ganache
Mexican Chocolate Pots de Crème
Paleo Comfort Foods' Poached Pears
Paleo Pumpkin and Carrot Muffins
Paleo Pumpkin, Coconut, & Maple Custard Cups
Panna Cotta with Strawberry Balsamic Compote
Primal Blueprint Nutty Strawberry Protein Balls
Yummy Mummies (a.k.a. Halloweenies)