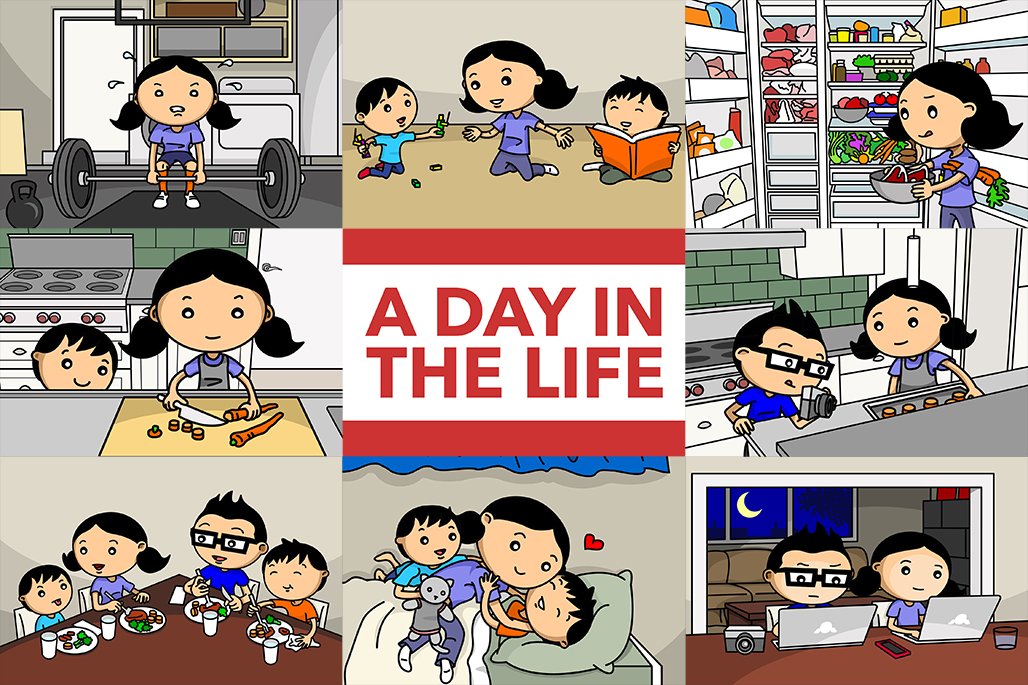 Podcast: Play in new window | Download
Subscribe: Apple Podcasts | RSS
Episode 8: A Day In The Life
In this episode of the Nom Nom Paleo Podcast, we're gonna shake things up a little bit. Instead of the usual format (which involves sitting around our dining room table and marching through different segments), we thought we'd drag you through a typical day in our lives—from the time we get up in the morning to when we collapse in bed at night.
It's not that we think we're super-interesting people. The opposite is true, actually. But when we asked you, our listeners, about what you'd like for us to cover on this podcast, one idea that came up more than once was going through a day in the life.
For our cookbook, Henry drew me a comic about a day in the life of a zombie drug dealer – in other words, me, or at least me a year ago. That's because at that time, I was working as a full-time night shift hospital pharmacist. In other words, I was a professional drug dealer. However, ever since I quit my night job about a year ago, our lives have changed a lot—and it's about time we provided an update to reflect what our life looks like now that I'm a full-time mom, cookbook author, blogger, home cook, app creator, podcaster, and whatever else it is I do.
(Spoiler: We reveal that our lives are totally ordinary, and that we're not much different from most busy families.)
Zombie Drug Dealer No More
For those of you who didn't know, in my former life, I worked as a night shift pharmacist (a.k.a. zombie drug dealer) for 12 years. Even though I thought I'd hacked shift work—check out my post on Surviving The Night Shift—I eventually realized that working graveyards wasn't sustainable. After I was interviewed for an article about night shift work in Psychology Today, I thought seriously about the sacrifices required of long-term shift workers: family time, sleep hygiene, health. A month later, I quit my job and wrote about my decision in a blog post entitled Independence Day.
The Early Birds Get the Coffee
Henry wakes up at 4:20 am three days a week to attend the 5 am class at CrossFit Palo Alto. (Yes, he knows I think it's crazy of him to wake up that early to exercise.) He starts his morning off with a freshly brewed cup of coffee, which we both agree is fine if you're healthy and well rested. My new morning routine starts two hours later, and is loosely based on the one described in Hal Elrod's bestselling book, The Miracle Morning. My modified routine involves chugging a large glass of water, meditating, and exercising before the kids wake up at 7 am. Truth be told: most mornings I only have time to drink some water and stretch out my creaky joints before Big-O bursts out of his bedroom. (Not Lil-O, though. He doesn't get up until and unless we awaken him.) While Henry makes breakfast for the kids, I pack their school lunches. Afterwards, when Henry drives off to work, I herd the kiddos to school.
Hal Elrod's book, The Miracle Morning, has helped tons of folks boost their productivity and happiness by teaching them how to implement a daily morning routine.
Like a good techie, I use the Brain Wave app on my iPhone to help me meditate.
The standard breakfast Henry prepares for the kids: Thai-style omelets, a recipe in our cookbook.
We always pack our kids lunches in LunchBots stainless steel containers. We usually include eggs for Lil-O, leftovers or deli meat (Applegate Organics or Belcampo Meat Co.) for Big-O, fresh fruit, SeaSnax seaweed snacks (affiliate link), and an occasional gluten-free treat. Looking for inspiration for packing Paleo lunches? Check out this roundup.
The Business of Nom Nom Paleo
My daily routine is never the same, but I always work on Nom Nom Paleo business while the kids are in school. Before I tackle my tasks for the day, I scarf down a quick breakfast and catch up on social media posts and emails (yes, I even read my hate mail!) from the night before. Next, I power walk to a WiFi-enabled café, public library, or co-working space and do my best to squeeze in as many meetings and calls as possible. Content creation can mean recipes, blog posts, podcast outlines, or projects with business partners. But it's not all fun stuff; I also ship Nom Nom Paleo action figures and socks, meet with our app developer, and book events and travel. Throughout the day, I personally respond to our readers on all my social media channels; after all, I'm a one-woman show while Henry's at work. And then, at around 1 pm, I walk home and make myself lunch before I pick up the kids from school.
Sometimes I change up my breakfast by eating leftovers, but I usually make a couple of crispy fried eggs. The way I cook and season the eggs is described in Episode 2 and Episode 5 of the podcast.
If you want your very own Mini Michelle action figure, go buy one here!
I read everything sent to me via email and social media, but I don't always have time to respond. But here's a secret: your best bet for a speedy and brief response from me is to tweet at me (@nomnompaleo).
I use the productivity app Trello to track my ever-growing to-do list.
Afternoon Delights
At 2 pm, I put away my computer and rush to pick up the kids from school. Lil-O gets out of school before Big-O does, so during the 45 minutes between pick-ups, I socialize with the other parents waiting for the bell to ring. After school, I help the kids with their homework and/or shuttle them to their activities—and if I have time, I'll work on recipe development, which also doubles as dinner. The kids aren't allowed screen time on school nights, so when they're done with homework, they read or play together while I cook.
And believe it or not, these days, I don't photograph the food as I'm making it.
If I'm developing a new recipe, I'll diligently write down my steps and notes, but time is of the essence—my goal is to just get food on the table quickly so the kids can eat and go to bed. I might take a shot or two of my dinner plate to post on Instagram, but nowadays, we only shoot recipes for the blog or cookbook on weekends, when Henry and I are both home.
An example of one recipe that I tweaked over and over again until the flavors were just right is my Carrot + Cardamom Soup. Frankly, after an intense week of testing it meal after meal, I'm sick of it—though many people tell me it's their favorite recipe from our cookbook.
House rules dictate that tablets, computers, and TV are prohibited on weekdays, so the boys make do by building with Keva blocks (affiliate link), drawing superheroes and villains, sculpting sad faces with clay, or playing  Bacon's Big Adventure (affiliate link).
Evening Ritual
On weeknights, our family dinner is served at 7 pm, and Henry does his best to join us before we finish eating. Invariably, Lil-O's still eating when my husband gets home. Despite eating the least amount by volume, my seven-year-old is the slowest eater in our family—he almost always finishes close to 8 pm.
By the time he's done with dinner and the dishes are cleared, it's time for the kids to hit the sack. The kids brush and floss their teeth, and then – if they don't dawdle, they'll get a bedtime story. Lately, they've been demanding that Henry tell them a funny story. And by "funny," they just mean gross. It doesn't even have to be witty or smart. They just want Henry to replace certain words in their books with words like POO or PEE or FART. But, hey—whatever makes them go to bed.
After the kids are in bed, we spend the last few hours of the day cleaning up the kitchen and working on our computers. I don a pair of amber goggles and write my Nom Nom Paleo posts or edit recipes. Henry, on the other hand, helps with editing, photography, illustration, web design, and book layouts. Lately, though, all of his free time is consumed with editing our podcast. (He makes it look easy, but it isn't.) Because I don't want to end up a widow, we've decided to take a break from our weekly podcast schedule next week and see how it goes.
I wear these super cheap amber-colored goggles to block out the blue light that emanates from all the screens we use, and from the lights in our house.
I also installed f.lux on our Macs to automatically dim the screens on our laptops. The blue light suppresses melatonin production, and this hormone is important to induce sleep at night.
We keep our bedroom pitch-black with an Indow Window blackout insert, and we don't allow any electronic devices in our room. We also throw a shirt on top of our alarm clock to block the light. I do like to unwind in bed with a book, so our reading lights are fitted with orange party bulbs. Yes, I know all of this makes me sound like a weirdo—but I'm a weirdo who sleeps well, thankyouverymuch.
No, really: thanks for listening! If you like our podcast, go subscribe and rate it in iTunes!