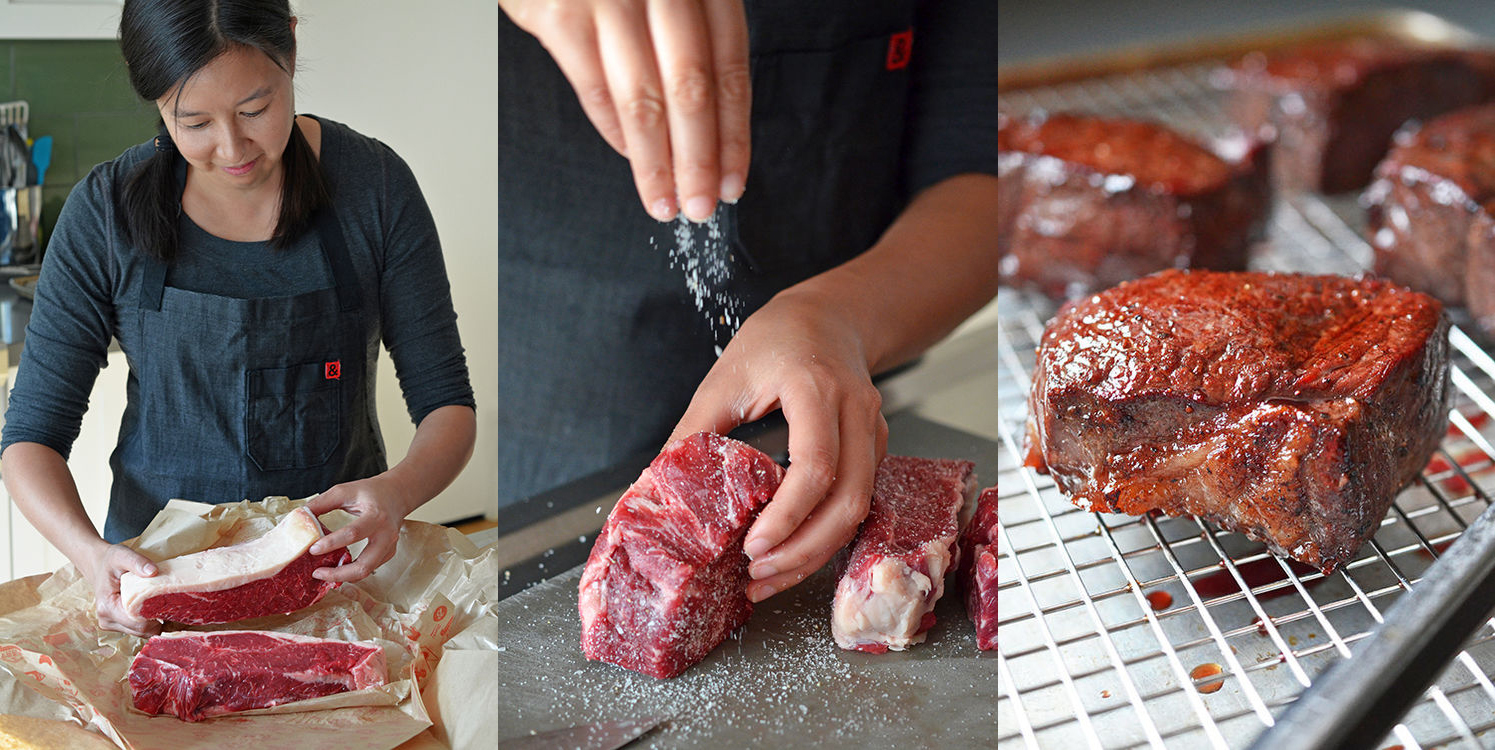 Podcast: Play in new window | Download
Subscribe: Apple Podcasts | RSS
Episode 9: The Perfect Steak
A great way to impress a dinner guest—or treat the dad in your life for Father's Day!—is with a perfectly cooked steak. Still, a high quality steak can be expensive to purchase, so the last thing you'll want to do is mess it up during the cooking process. But don't worry: I'll teach you how to cook the perfect steak! I'll go over the best cuts to buy and the foolproof cooking methods you'll need to know to sear your beef the right way. Ready to tackle the perfect steak?
Show Notes & Links for Episode 9:
What We Ate:
We just spent a week in Maui, and savored tons of tasty bites while chilling out on vacation. Our family heads to Maui about once a year 'cause we were suckered into buying a timeshare many moons ago, when my resolve was weakened by an mind-altering affliction called pregnancy. (But to be honest, we haven't regretted it!)
As usual, we visited our favorite restaurants and hunted for new culinary finds while we were on the island, but my favorite bite of the week was on our final morning on Maui, when we cut up a sweet, aromatic, shockingly yellow organic pineapple that I'd plucked straight from the fields at Kumu Farms the day before.
On this episode of our podcast, Henry and I chat about our Maui eats, and share details about our fantastic farm-to-face dinner at The Mill House, a new restaurant located right in the middle of the same plantation where I harvested my ripe, sunshine-yellow pineapple. Chef Jeff Scheer makes it a point to source virtually all of his ingredients straight from the organic farms on-site. Henry's favorite dish of the night was the umami-packed Dashi Cioppino, and I can't forget the Lilokoi Posset, a chilled dessert made with thickened cream flavored with tangy passionfruit, or the grilled Mahi Mahi with corn puree, blue oyster mushrooms, and piperade. (Okay, okay—calm down. Corn may not be Paleo, but I will always make an exception for organic local corn grown just a few feet from the kitchen.)
To peek at some of my Maui eats, check out my Instagram feed and the hashtag I used to organize my island photos, #NomNomMaui. Want to check out the neon yellow pineapple that I picked myself? Check out this pic—and this one, too.
If you happen to find yourself on Maui, get yourself over to Maui Tropical Plantation so you can visit Kumu Farms, fly across a zipline, and dine at The Mill House. (Preferably in that order.) The official Grand Opening of the restaurant is July 3, 2015, but Chef Jeff Scheer and his team already have their ducks in a row, and are serving diners now, during The Mill House's soft launch. By the way, not only is Jeff the Chef (I'm a poet and didn't even know it!) Maui's Chef of the Year for 2015, I think he also looks strikingly like Bradley Cooper.
And for those of you clucking with disapproval because you spy some beans or corn in my photos from Maui, listen up: when I'm on vacation, I don't eat 100% Paleo. You can learn more about how I travel while Paleo in Episode 7 of our podcast, but in short, it's not much of a vacation if I'm freaking out over everything I'm eating. After all, stress management is an important part of health and happiness, too—right?
Main Course:
In this episode, Henry and I focus on how to select and cook the perfect steak. This premium cut isn't an everyday food; steak is an indulgence both because of the expense and the sheer primal joy that we derive from enjoying a seared, juicy cut of properly aged meat. The animal sacrificed its life so we could thrive, so it's important that we take the care to cook it the right way. Unlike other cheaper cuts of meat (like brisket, short ribs, or oxtail) that are super forgiving with low and slow cooking methods, a premium steak really needs to be cooked properly to be delicious. We discuss the importance of sourcing 100% grass fed beef, where to buy it, and how to cook it—no matter if your method of choice is grilling, pan-searing, oven-roasting, or sous vide cooking.
Crush of the Week:
The kids talk about how Snuba, a hybrid of scuba and snorkeling, trumps eating shave ice and watching television. By strapping on some Snuba gear and exploring the reef just off the beach near our place on Maui, the four of us were able to get up close and personal with sea turtles, eels, and tons of exotic fish. The boys have already requested another Snuba session on our next visit to the island.
Question of the Week:
 Sarah, one of our listeners, asked me this question via email:
I'm new to Paleo and the Whole30 (1 week)…so far so good.  Since we cook with so much raw meat, I would appreciate if you would do a refresher course on food handling safety (for my husband because he does most of the cooking.) 
In my opinion, the only thing worse than overcooking an expensive piece of meat is to get sick from it.
When it comes to handling raw meat, keep these basic food safety tips in mind:
Avoid cross contamination!  Use a special cutting board and knife for your raw meat, and don't use those same tools to cut veggies for a raw salad. I set aside a small ramekin to hold salt and pepper that I use to season my raw meat, 'cause if you just pour salt out of a container, your meat-juice-covered hands will muck up the box and spread the stuff around. Also, don't place your cooked steak back on the same plate you used to marinated raw meat, and don't reuse the marinade if you just soaked some uncooked meat in it. If you want to reserve some marinade, do so BEFORE you put raw meat in it.
Know where your meat comes from and the likelihood that safe handling practices were used in raising the meat.
It goes without saying, but I'm going to say it anyway: after handling raw meat, wash your hands with soap and water, people. Don't just wipe your grody paws on a kitchen rag like they do on TV.  Also, wash all the stuff that touches raw meat with hot, soapy water.
Now if I haven't completely grossed you out: go forth and make a steak!