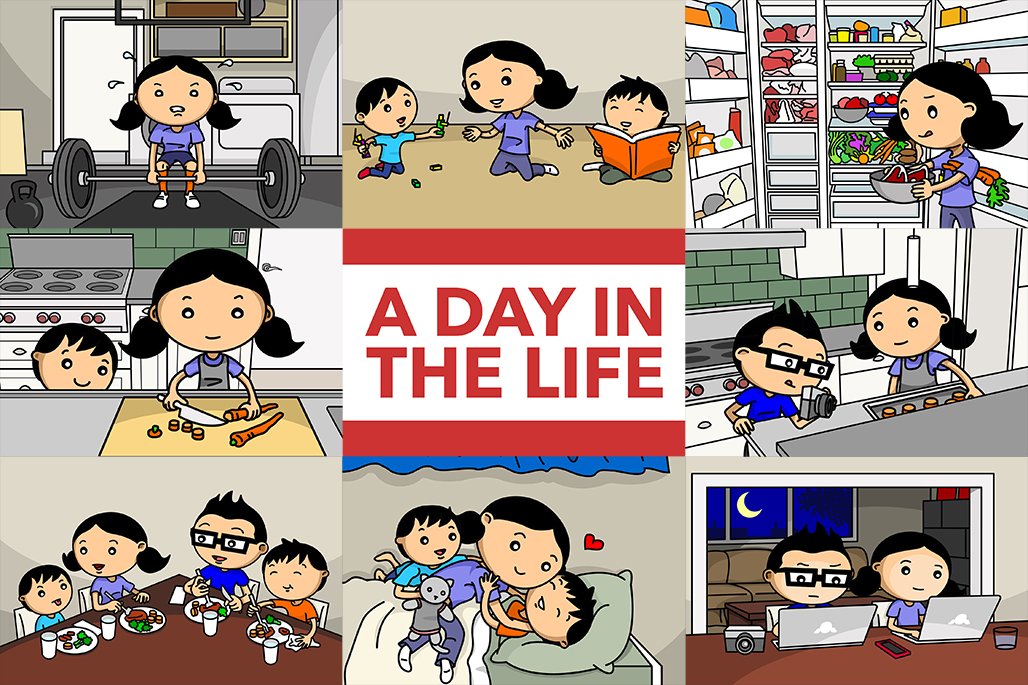 Podcast: Play in new window | Download
Subscribe: Apple Podcasts | RSS
Episode 8: A Day In The Life
In this episode of the Nom Nom Paleo Podcast, we're gonna shake things up a little bit. Instead of the usual format (which involves sitting around our dining room table and marching through different segments), we thought we'd drag you through a typical day in our lives—from the time we get up in the morning to when we collapse in bed at night.
It's not that we think we're super-interesting people. The opposite is true, actually. But when we asked you, our listeners, about what you'd like for us to cover on this podcast, one idea that came up more than once was going through a day in the life.
For our cookbook, Henry drew me a comic about a day in the life of a zombie drug dealer – in other words, me, or at least me a year ago. That's because at that time, I was working as a full-time night shift hospital pharmacist. In other words, I was a professional drug dealer. However, ever since I quit my night job about a year ago, our lives have changed a lot—and it's about time we provided an update to reflect what our life looks like now that I'm a full-time mom, cookbook author, blogger, home cook, app creator, podcaster, and whatever else it is I do.
(Spoiler: We reveal that our lives are totally ordinary, and that we're not much different from most busy families.)